Campus Facilities
Class Room - 3 spacious, well lit, and airy blocks housing huge class rooms each of which will easily accommodate around 75 students.
Hostel - A dedicated hostel block having 150 rooms with each room accommodating 4 students.
ReadMore >>
Academic Exellence
The college Academic performance is well eschewed in the quality of our faculty and the head of the institution, who are all learned, experienced and dedicated teaching professionals. In their hands, the academic excellence of our institution....
ReadMore >>
Training & Placement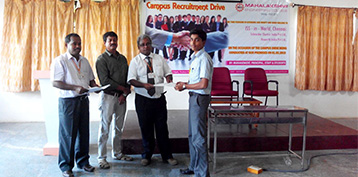 Proper training in soft skills and required vocational skills inculcated to students under the supervision of the training cell. The training modules are modified from time to time in consultation with the industry experts. Mock interviews, group discussions, role plays....
ReadMore >>
Industrial Collaboration
The Industry-Institution interaction cell has taken various steps to have a healthy collaboration with the industry culminating in industry visits, guest lectures by eminents from industry, internships, special courses conducted by our faculty for industry employees etc.
ReadMore >>
ENTREPRENEURSHIP
Entrepreneurship Development cell formed to inculcate the values of entrepreneurship among students. Guest lectures being organized on Entrepreneurship. MOU's being signed with industrial houses for job work to be executed by our students under the Entrepreneurship..
ReadMore >>