BUILDING INFRASTRUCTURE:

(a)CLASS ROOMS:
3 spacious, well lit, and airy blocks housing huge class rooms each of which will easily accommodate around 75 students.

(b) HOSTEL:
A dedicated hostel block having 150 rooms with each room accommodating 4 students. The hostel block boasts of clean and hygienically maintained rest rooms for male and female students separately. A large study hall available with a warden supervising the studies of the hostel students.

(c). Library:
The Library is situated in the main block, maintaining a stock of around 25000 books and ten dedicated internet connected systems for the e-library.

(d). Computer Labs:
Two full fledged computer labs hosting around 450 systems and one Language lab hosting around 50 systems situated in the main block. 24 hour internet connectivity is available. This is a wi-fi enabled campus.

(e) Two dedicated mechanical department labs, ece department labs, civil department labs and eee department labs spread out through the campus with all latest equipment and machineries installed for the benefit of students.

MESS:
A mess housed in a separate building hosts around 300 students and faculties every day. The food is prepared with utmost care given to hygiene, quality and quantity. The Mess premises is cleaned periodically and maintained well. The food quality is excellent and periodic checks are done on the quality of food.

Wash rooms & rest rooms:
Wash and rest rooms available in all floors of all blocks separately for male students, female students, male faculty, female faculty and differently abled persons with hygienic maintenance and cleanliness being the focus.

CAMPUS MAINTENANCE:
A separate administrative cell takes care of the daily cleaning and maintenance of the entire campus. The initiatives of this cell help in giving a clean and healthy atmosphere in the campus day after day.

There is ample open space where various green and fauna are grown, making the campus a lovely sight to the eye.

SPORTS:
There are dedicated Cricket ground, Tennis court, Volleyball court, shuttle court and Kabaddi court in the campus. The daily sports activities help keep the students fit and healthy.

WI-FI:
The entire campus is WI-FI enabled hence assuring connectivity of the students to the outer world non-stop.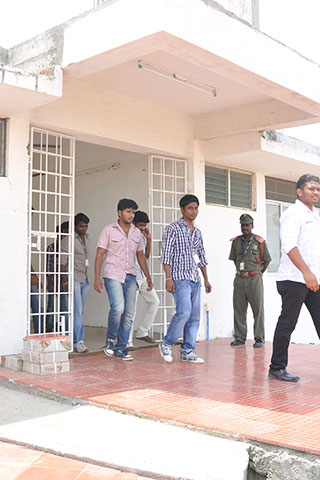 ---